At the 2009 GYC convention, I was introduced to a new application for the iPhone and iPod touch that features Ellen White's writings, called PocketBible. Unlike the Conflict of the Ages app I reviewed some time ago, this one contains all of the books (or at least the major ones) written by Ellen White. I counted 119 books in all. This is obviously a major advance over the five books included with Conflict of the Ages.
The base app, PocketBible, is developed by a company called Laridian. This app is FREE. However, PocketBible is mainly just a shell for library modules that you download. Some of these are free or included, but others — such as the Ellen White writings — cost money. (Most of their libraries are Bible translations and such.)
You cannot, apparently, buy the Ellen White library from Laridian. I got mine directly from the White Estate booth at GYC. However, I could not find any information about the Ellen White library for this app on the Ellen White Estate website. They definitely carry the product, because I am using it now on my iPod touch. My guess is that you just need to contact them for information about how to buy a serial number. Once you register the serial number on the Laridian website, you then enter your customer identification in the PocketBible app, and the whole collection downloads automatically. It's best to do this with a wifi connection, because it's quite a large download.
Personally I found the interface a little confusing. It's not as elegant as the Conflict of the Ages app, but it's functional. Personally I found the method of turning pages awkward. But some people might prefer it. It's mainly a matter of taste.
The app is fully searchable. However, it only searches one library at a time. In some ways this is good, because you usually don't want a search to be pulling words from all the different Bibles and commentaries. However, when I first started using the app, it appeared that you could only search White's writings book by book. In other words, you might open Sons and Daughters of God and search that. Obviously that would be very limiting. However, I learned that the key is to open the library called "EGW-BKS" (in the Other Books section of the app), and searching in this library searches all the books simultaneously.
Here is a screen shot showing a search results listing: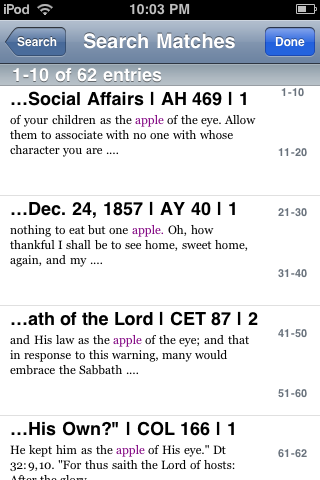 And this shot shows what the content looks like. Note that the Bible verse references are clickable, which is quite cool: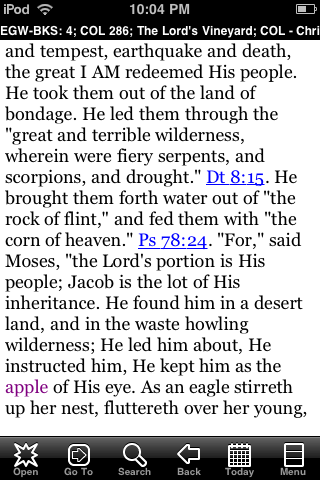 If you have an iPhone or iPod touch, it's definitely the best thing out there for accessing Ellen White's writings.